Three different temperature rated ball-type service valves are available for use with Metal Samples retrieval tools: standard, low and high temperature. The female threads on this valve are industry-standard ACME threads and may be used with any Metal Samples Corrosion Monitoring Systems high pressure access fitting as well as any other 2" access fitting. The valves have a bleed valve located on the non-process side of the ball. This bleed valve may be used to drain the retrieval tool, sample process, or be used as a path for back-pressuring. All valves are NACE MR0175 compliant for use in sour service, factory pressure tested for a working pressure of 6000 psi W.O.G., and meet API6FA and API607 fire safe requirements.

The service valve is a portable valve that is used in conjunction with a retrieval tool. The service valve is threaded onto an access fitting in preparation for retrieving a plug. Next, the retrieval tool is attached to the service valve. System pressure is then equalized in the retrieval tool by unseating the plug.

Metal Samples standard service valve is constructed from A350LF2. We also offer a severe service option in 17-4PH. Please contact us for additional details.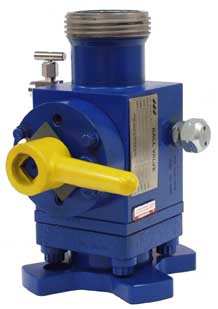 Figure 1. Service Valve
Occasionally deposit buildup in access fitting bodies does not allow for pressure equalization through the plug. If this occurs, the retrieval tool can be back pressured by use of a back-pressure kit (P/N - HA104000). Once pressure equalization has occurred, the plug is removed and the valve is shut. Finally, the retrieval tool is removed from the valve allowing access to the plug and its accessory. A Blanking Cap/Plug Assembly (P/N - PS5612) may be installed on the valve as an additional safety measure, if required.

Service valves are supplied with a durable lightweight field service case, extension bar, tool kit, and one O-ring seal kit.

---
Physical Data
Valve weight: 45 lbs.
Case dimensions: 12 3/4" x 13 3/4" x 20 1/4"
Case weight: 25 lbs.
Total weight: 70 lbs.

Specifications

Complies with API6FA and API607 as a fire-safe unit
NACE MR0175
Pressure rating - 6000 PSI
---
Ordering Information
Service Valve
Part #
Description
HA101250
Standard Temperature Valve
-15°F to 200°F (-26°C to 93°C)
HA101251
Low Temperature Valve
-30°F to 200°F (-34°C to 93°C)
HA101252
High Temperature Valve
-15°F to 400°F (-34°C to 204°C)
Repair Parts
Part #
Description
KR1009834
Standard Temp. Seal Kit
KR1010
Standard Temp. Repair Kit
HA700604834
Standard / High Temp. Female End O-Ring
HA700604370
Low Temp. Female End O-Ring
PR6359158
316SS 6000 psi Bleed Valve
Optional/Spare Tools and Accessories
Part #
Description
PR6961
Socket 19MM 12 Point 1/2" Drive Deep Wall*
PR6962
8MM Allen Wrench*
PR6963
10MM Allen Wrench*
PR6358
Brass Hammer**
PS5612
Blanking Cap/Plug Assembly
*1 each 19mm socket, 8mm allen wrench, and 10mm allen wrench supplied with each service valve.
**Brass hammer supplied with retrieval tool.