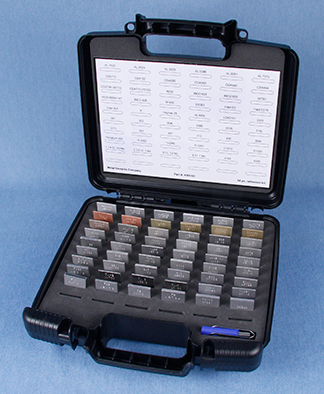 Metal Samples has selected some commonly used metals for non-destructive testing. Reference Assortment Kits can be very useful in performing the Chemical Spot Test. This test method is based on electrographic extraction of metal atoms from a surface and can be verified by testing on a known alloy. An additional use of these kits is to check the element content of an alloy by examining the color intensity of a chemical spot in comparison to a standard. The reagent chemicals can be tested on a metal standard to ensure the shelf life of the chemical has not been exceeded.
Another non-destructive evaluation that utilizes metal standards is the Thermoelectric Alloy Separators Test. This test measures the "EMF" generated by a heat junction of dissimilar metals. The magnitude of the "EMF" is a function of the metal's chemistry and physical characteristics.
Reference Kit No. KR5100 contains 44 different alloys and Reference Kit No. KR5101 contains 54 different alloys. Additional slots are provided with the kit to expand the selection of alloys to meet your specific requirements. The chemical analysis of each alloy in the kit has been tabulated from mill test reports and certified chemical analyses. These test results are recorded on an analysis sheet that accompanies the assortment. Alloy specimen sizes can be either 1" x 2" x 1/16" or 1" x 2" x 1/8". The alloy specimens have a glass bead blasted finish.



Reference Kit No. KR5100 contents:
AL 1100
I800H / HT
321
AL 2024
I825
347
AL 3003
M400
410
AL 5052
20Cb3
416
AL 5086
G3
420
AL 6061
HC-276
430
CDA 110
HB-3
440C
CDA 260
Haynes 25
Ti Gr 2
CDA 360
17-4PH
F255
CDA 464
301
C1010
CDA 510
302
C4140
CDA 706
303
C4340
CDA 715
304L
Mg
I600
316L
Zinc
I625
317L




Reference Kit No. KR5101 contents:
AL1100
I800H / HT
317L
AL2024
I825
321
AL3003
M400
347
AL5086
20Cb3
410
AL6061
G3
430
AL7075
HC-276
904L
CDA 110
HB-3
F255
CDA 122
HX
Ti Gr 2
CDA 260
Haynes 25
Ti Gr 5
CDA 360
Al-6XN
Ti Gr 7
CDA 443
LDX2101
C1010
CDA 464
2205
C1020
CDA 706
301
1 1/4Cr 1/2Mo
CDA 715
302
2 1/4Cr 1Mo
N200
304L
5Cr 1/2Mo
I600
309S
9Cr 1Mo
I625
310S
C4140
IX750
316L
C4340