Welding Services - Robotic & Manual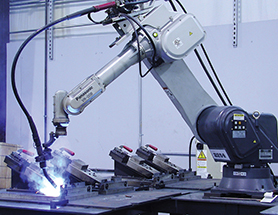 Alabama Laser Technologies has 4 robotic welding systems which provide precise gas metal arc welds (GMAW) in repetitive motion applications. These systems are ideal for the automated run of repeat, large quantity parts.

We also have multiple manual welding stations (MIG & TIG) with a skilled team of welders dedicated to meet your welding needs.

We have experience in welding not only carbon and stainless steel, but also aluminum, high nickel, titanium, and other exotic alloys.