Punch Press Services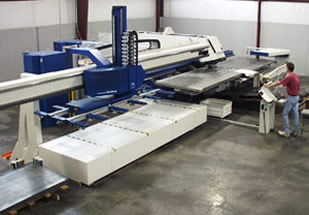 For rapid punching operations, we use our punch presses which can hold sheets up to 5' wide by 12' long and can punch pieces as thick as 5/16" on mild steels.

Our punch press department houses several machines, including an automated CNC punch press which can handle punching operations with speeds that surpass any other machine on the market. This automated punch press has a sheet loader/unloader for material handling.
All tools on our punch presses have full 360° head rotation, giving them greater flexibility of operation. In addition, the punch presses can tap and form parts during the punching process, which eliminates the need for secondary operations.